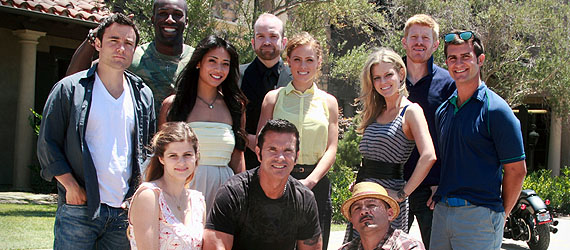 The show was about getting a guy to join a fake reality show composed with actors who play stereotypical roles. The real guy believed to be competing against a $100,000 and become a real bounty hunter, but little does he know that everything he entered into was fake. It was about trying to keep the real guy from figuring out the truth while simultaneously keeping the show interesting and hilarious with the craziest cast.
I believe that this will sell to the Philippine audience because Filipinos want something different. Filipinos wants drama, also the reason why PBB is a big hit, and are intrigued by how the real guy will react to the hired actors. Some also enjoy watching others get fooled by a one big lie. This will be something new to the Filipinos.
Some stereotypes included in the show were the ally, the black guy, the Asian, the model, and the celebrity. They made the show intriguing and kept the show close from reality.
I felt that the whole show was unethical. They were deceiving a real guy to gain viewers and they were showing foolish acts to keep the show humorous. The scenes when the model were confidently showing her pornographic album to everyone in the group and when the first challenge was to face off against each other with Tasers were some of the immoral parts of the show.
Using sex and violence is an easy way to get people to watch the show. SEX SELLS. Putting sex and violence creates humor that will keep the show interesting to watch.
To be honest, if given the chance, I wouldn't continue watching the show because I find it disturbing especially to other parts of the show. It may be funny and interesting at first, but finishing the complete series will be a waste of time for me because I don't really enjoy reality show dramas. I'd rather watch TV series with interesting story lines.